In the cellar
While most of our work and the majority of our team is devoted to the vines, our cellar methods are also quite different to those of our counterparts. The energy created in the vineyard, the oligo-elements captured by the vines and present in the grapes must persist during maturation and bottling, in order to produce the most enjoyable wines possible.
Limited intervention
After manual harvesting (by cutting), then de-stemming, the grapes are stored in cement vats and begin to ferment, thanks to exclusively native yeasts, and without the use of additives. At le Puy, we use a fermentation by infusion method. It begins, continues and stops without any action on our part. This procedure enables gentle diffusion and improved integration of the wine's elements, in particular the tannins. It draws out le Puy's characteristic texture, finesse and harmony.
---
Once fermentation is complete, it is time for maturation, which takes place in used oak barrels and foudres for at least two years for our red wines. We deliberately avoid the influence of wood on the taste, an aspect we consider as a flaw. This explains why we rarely change our barrels. The methods we use in the cellar are in keeping with those initiated in the vineyard. We try to intervene as little as possible during maturation, no wine additives are used and all cleaning is done solely by steam with the estate spring water. Likewise, le Puy does not have an external oenological consultant ; a family committee makes decisions independently. We have our own analysis laboratory, which enables us to follow the evolution of our wines and ensure their impeccable quality for the most discerning connoisseurs.
Boost the natural defenses of our wines
At le Puy, we now produce a large number of vintages without added sulphur. This is a practice we have been perfecting for several decades. Our family archives contain notebooks belonging to Barthélemy Amoreau, Jean Pierre's great-grandfather, in which he explored, as early as in the 1870s, the possibility of producing wine without sulphur. By ensuring we harvest perfectly healthy grapes, we help our future wines to protect themselves. In order to help them boost their natural defences, however, these vintages are dynamised up to several times a week, according to an empirically-established lunar calendar which we have been using for generations.
Dynamisation is a bâtonnage method which is specific to Le Puy, and is used to boost energy, accentuate depth and texture, and protect the wine. This operation is carried out by hand. Once bottled, all our wines are waxed. The wax adheres to the pine resin cork and enables enhanced conservation and prevents the development of bacteria or fungi while remaining sufficiently porous to maintain the exchange of air which is vital to the natural ageing of the wine…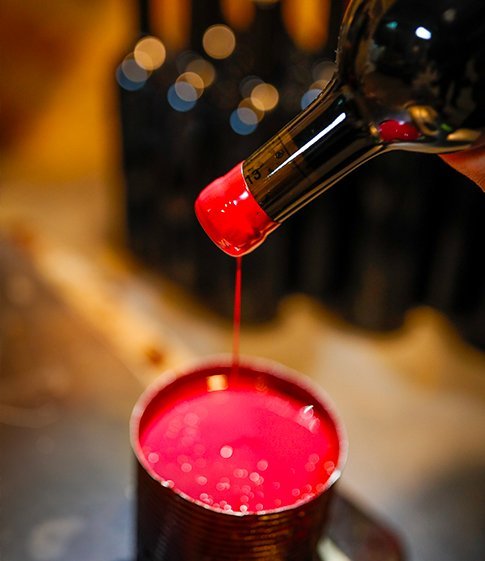 Proven longevity
Our cellars are not temperature-controlled, because we believe that our wines should "live" and experience The buildings on the le Puy estate have changed little since our ancestors' time, and we have resisted the siren song of excessive technology. Our cellars are therefore not thermo-regulated, because our aim is to let our wines "live" and experience certain variations in temperature. We firmly believe that the wines conserve these changes in their memory. Our wines are renowned for their robustness; our family cellars hold more than a century of vintages, which the vertical tasting we organised in 2017 testified to, with wines dating from 1917.
We take particular care of our wines ; all our older vintages available for sale are decanted, re-levelled, recorked and waxed. This is the only way for us to guarantee their taste quality after sometimes long journeys. Finally, all our bottles contain a tracking chip, which enables easy checking of their authenticity.